Excellencies, Ladies & Gentlemen,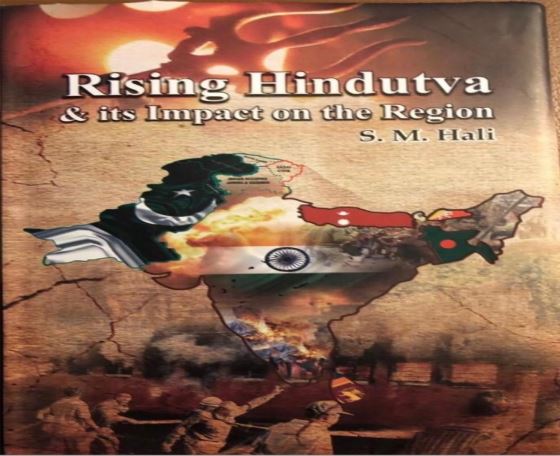 It is a pleasure to be at the Institute – a place of learning, in an august gathering with distinguished speakers, among them – an accomplished soldier, a fine diplomat and man of letters, on an occasion of book launch on an important subject.
ABOUT THE BOOK
Various subjects are addressed in the book but I shall briefly comment on Hindutva & Hindus, Security & Intelligence, Water & Climate Change, India & its neighbors.
Hindutva & Hindus
Hindutva history of over a century, its actions, impact and myths have been documented in this book in a scholarly manner giving reference of Hindu writers and their books.

A learned Indian politician Shashi Tharoor expressed his views on Hindutva, as referred in this book, and I quote, "Hindutva seeks to impose a narrow set of beliefs, doctrines and practices on an eclectic and loosely-knit faith, in denial of the considerable latitude traditionally available to believers."  Unquote

The Indian Constitution, given by its founding fathers, clearly envisages a socialist, secular and democratic republic. However with the rise of Hindutva to power we see India's transition from its multi-religious heterogenous culture to Hindu Cultural Nationalism, striking at the very foundation of its Constitution.
Security & Intelligence
Hindutva has been used as a creed to get political control, like many other extremist philosophies like Nazism, Zionism, and Daesh.

Worldwide, the intelligence plays a vital role in foreign and security matters. The author has studied and analyzed it with specific mention of Ajit Doval the Indian NSA who is a key practitioner of Hindutva towards destabilizing the region with terror operations.

In line with the Chanakyan guile & deceit, India has extensively used and using state terrorism as means to achieve its hegemony in the region. Book deals it in great detail and makes assertion that RAW has used communication including the fiction writing, cinema, false flag operations as 'weapons from its arsenal'.
Water & Climate Change
Challenges like river water, environment & climate change can best be addressed for the benefit of two countries by a dialogue. It was in 1960 that the two countries inked Indus Water Treaty after a protracted negotiation to end the water disputes that erupted after 1947 independence.

IWT which survived several wars, and referred as a model of water division, came under full attack when Hindutva regime came to New Delhi after the last elections. The book has dealt this under title 'Unleashing water terrorism on Pakistan' and goes on to share the threatening statements by Hindutva PM Modi who even gave ultimatum in 2016 to use 'water as a weapon'.
India & Neighbors
In foreign relations, India's record with its neighbors is dismal and disappointing. India did not rest with annexing part of Jammu & Kashmir and Sikkim by force and deceit, but created disputes with all other neighbors, powerful or weak.

This book gives glimpses of how Hindutva elements in Indian polity have impacted relations with China on Doklam Bhutan, Xinjiang, Tibet and South China Sea.

Chapter 11 takes the reader on a tour of troubled Region and shows the involvement of Hindutva creating disputes of India with all its neighbors Bangladesh, Bhutan, China, Myanmar, Nepal, Pakistan & Sri Lanka. The tour includes BRI & Maritime Silk Road initiatives of China, even these development initiatives are being targeted by Hindutva leadership.
ABOUT THE AUTHOR
I will say he is a Pakistani – East, West, South and North all emboded in one.

He is recognized, for his contribution to foreign policy, foreign relations and security subjects, irrespective of governments in Islamabad, and is our China expert.

Above all he is a Humble human being: Researcher, historian, man of letters, and a diplomat.
CLOSING
People of India are again going for elections and will decide their future. Whether they will go the path of peace, prosperity, development or war, misery, and deprivation is for them to decide.

I quote from my Introduction in the book, "It is for Indians to decide about their destiny but Christians in the region, Buddhist of Bhutan and Muslims of Bangladesh, India and Pakistan need to take cognizance of this creed for protection of their faith, sovereignty and future".

People of my generation who desire peace between the two countries are now asking: 'Will the peace, between the two countries, come in our life time.' If not, than the coming generations – who have neither known each other and are fed on propaganda and fear – how will they achieve the peace?

Although 70 years have been lost, we still can make amends and bring the much needed peace for our people.
Thank you.