Nisar A. Memon

06-July- 2020 – Pakistan Observer
Time to reflect once again; where we stand in the comity of nations and where we are going. A debater can argue on both sides of the stage, a demagogue can harangue endlessly without substance, but the thinking people reflect in the context of security and sovereignty of the country.
Let's look at our status from just one international prism i.e. Sustainable Development Goals (SDGs) which were adopted in 2015 by all member states of the United Nations following the earlier Millennium Development Goals (MDGs) – where we did not do well.
Now the Sustainable Development Report (SDR2020) places Pakistan at 134th position, out of 166, in SDG Index which is topped by Sweden. Japan takes 17th position, South Korea at 20th position, while Sri Lanka 94th, Bangladesh 109th and India at 117. A serious in-depth analysis of our country profile is needed to understand why we trail behind with an index score of 56.2 against a regional average score of 67.2 and top most score of 84.7. The 17 SDGs, also known as Global Goals, cover a broad range of subjects ranging from poverty to economy, health to education, water to energy, climate actions to protecting planet, innovation and infrastructure, peace and justice to partnership for the future. The member countries were closely involved in developing goals and sub-goals thus were committed to pursue them.
Sustainable Development Solutions Network (SDSN) is an active forum of SDG signatories to mobilize global scientific and technological expertise to promote practical problem solving for sustainable development and implementation of SDGs by 2030. The SDR2020 was launched at a webinar last week by authors and United Nations Secretary-General's special adviser Prof Jeffrey Sach. It was attended by interested and concerned professionals world over.
The first of the 6 key findings of the Report states: "The highest priority of every government must remain the suppression of the pandemic. There can be no economic recovery while the pandemic is raging."
SDR2020 indicates that COVID-19 impacts are amplified for the most vulnerable groups. We in Pakistan have witnessed how it has impacted vulnerable people with resultant sufferings.
The Korean Crisis Management Committee on Covid-19 was headed by their Prime Minister to achieve the remarkable results. They placed importance on transparent communication with effective awareness of the programs developed with participation of concerned people with trust which helped implement actions. The vigorous testing was their hallmark in the success.
The lead countries recognized the strong nexus between health and security. The farsighted leadership continue to recalibrate policies and programs of crisis and not justifying who is right or wrong. The research community was effectively involved in crisis avoidance for future.
The Report confirms that the countries which had responded to SDGs since 2015 also responded more effectively so far to the Covid-19. SDGs are all about governance, development and improving the living standards of the world. Yet, even after 4 days of launch of SDR2020 we did not see any report, news, or views in our media.
Will someone tell citizens: Where do we stand on catching up on SDGs?
—The writer is former, federal minister and senator
__Jumbo Infomedia Blog Posting__
https://jumboinfomedia.blogspot.com/2020/07/nisar-memon-reflects-on-sustainable.html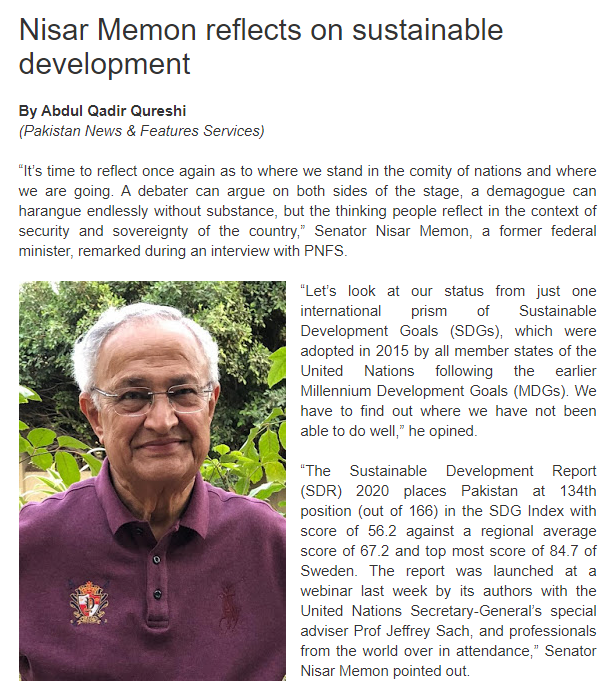 __Regional Times Posting__